After the great success in Milan and Paris, Marina Spreafico and Guido Morini again on stage with
"La Lezione di Musica"
Nov. 4 – Nov. 8, 2015
Teatro Arsenale, via Cesare Correnti 11 MILANO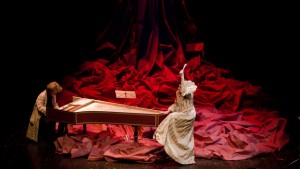 Music on stage or theatre in music? An innovative overwiew on music and theatre in 17th century.
Exploring relations between written text and improvisation, discovering unespected similitudes between actors and musicians… Welcome to the most surprising music lesson!